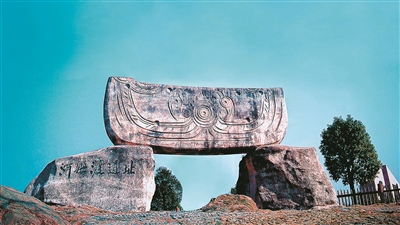 Hemudu Site. /河姆渡遗址。[Photo by Wang Peng]王鹏摄
  Exhibits of primitive life are not always confined to a showcase. At the Hemudu Cultural Site Museum in Yuyao, visitors can delve into the wilds to experience a way of life long past.
  展览并不局限于陈列柜,在余姚市河姆渡遗址博物馆,游客可以深入遗址现场,体验原始的生活方式。
  The site is open to tourists to explore the life of a tribe that was active 7,000 years ago when people hunted wild animals, cultivated rice, and fished in the area's rivers and lakes.
  遗址现场展示区向游客开放,还原了7000年前人们在该地区狩猎野生动物、种植水稻和捕鱼时的部落生活。
  Items exhibited include remains of rice kernels, ceramic fragments with carbonized rice and husks, wooden joints, ivory artifacts in the shape of birds, and ivory carved plates with sun motifs.
  出土文物内容丰富,包括人工栽培水稻的大量遗物,带榫卯的木构建筑构件,以及刻有鸟类、太阳等装饰花纹的陶器、骨器。
  The Hemudu site has attracted a range of researchers from all over the world, who found that its people turned from gathering wild food to rice farming as early as 7,000 years ago.
  河姆渡遗址吸引了来自全世界的研究人员。他们研究发现,早在7000年前,河姆渡人的生活已从采集文化转向农耕文化。
  Based on the research of Prof. Dorian Fuller from University College London and Prof. Zheng Yunfei from Zhejiang Provincial Institute of Antiquity and Archaeology, it is now recognized as the Hemudu Neolithic Culture.
  伦敦大学学院的多里安·富勒教授和浙江省文物考古研究所的郑云飞教授将这种文化认定为河姆渡新石器时代文化。
  By Jin Lu