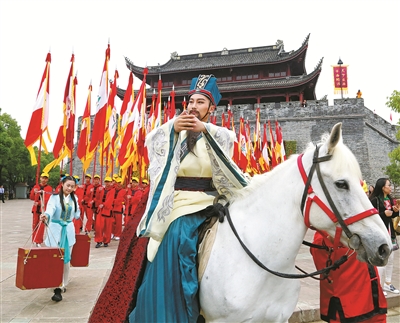 The annual tourism festival named after Xu Xiake.
  徐霞客开游节盛况。[Photo by Wang Peng]王鹏摄
  Xu Xiake was a "travel blogger" in ancient China. According to his travel notes, Xu has traveled to more than 20 provinces and cities. On May 19, 1613 A.D., he left the Ximen (West Gate), Ninghai and began his 34-year adventure.
  徐霞客是一名中国古代的"旅游博主",他的足迹遍布中国20多个省市。公元1613年5月19日,他从宁海西门出发,开始了34年的冒险之旅。
  At that time, there were no vlogs or social media platforms, so he recorded what he saw and felt, and wrote a travel book, which was known as The Travel Notes of Xu Xiake.
  在那个没有Vlog和社交平台的时代,他将自己的所见所感写成了《徐霞客游记》。
  The hundreds-of-thousands-of-word book does not only contain valuable records about the great rivers and mountains of China, but also is a valuable literary work.
  这本几十万字的游记不仅记录了中国的大好河山,同时也是一部很有价值的文学作品。
  Since 2002, Ninghai has held the tourism festival named after Xu 19 times. As the first station of Xu's journey, this year, the county was also designated the main venue for Zhejiang to mark National Tourism Day.
  自2002年起,中国(宁海)徐霞客开游节已连续举办了十九届。作为徐霞客游记开篇地,今年,宁海县被指定为中国旅游日浙江主会场。
  By Gou Wen