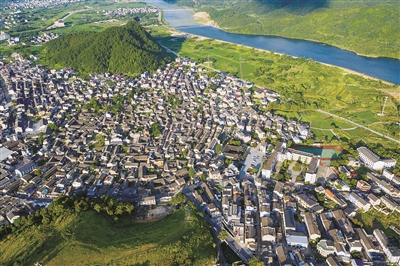 Qiantong ancient town. /前童古镇。[Photo by Miu Jun]缪军摄
  Qiantong ancient town is located in the southwest of Ninghai County. With the Bai Creek flowing through it, the town is a unique collection of historical architecture that epitomizes the quintessential southern China water town.
  宁海县西南方向有一座古镇,白溪的水从这里流过,精美的古建筑让人目不暇接——这里就是前童古镇。
  Qiantong was founded at the end of the Song Dynasty, over seven hundred years ago. More than 1,300 historical dwellings of various styles have been preserved to the present day. The town's winding paths are paved with pebble. The walls of homes are inlaid with elaborately carved stone windows.
  前童古镇始建于宋末,至今仍保存有1300多间各式古建民居。镇里的小路铺的是鹅卵石,墙面嵌着雕花的石窗。
  The 2,000 families who live in the town have the same family name: Tong, making Qiantong the largest community of Tong-surnamed people in the Jiangnan area.
  住在这里的2000户人家大多都有着同样的姓氏——童,因此这里也是江南最大的童姓聚居地。
  During Chinese New Year, many tourists come to Qiantong to experience an authentic local festive atmosphere. Locals would perform the Dragon and Lion Dance on the streets, festooned with colorful lanterns. Bustling with crowds, this old town truly comes to life during the holiday season.
  新年期间,许多游人会来这里感受"老底子"的年味,观赏各式花灯以及舞龙舞狮表演。那时,这座千年古镇里会变得游人如织,热闹非凡。
  By Gou Wen