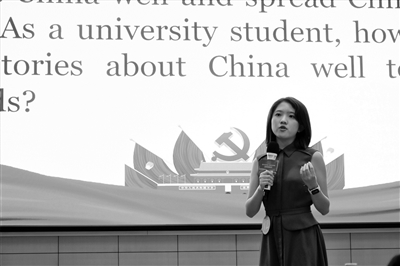 The scence of contest.
On the afternoon of October 31st, the English Speech Contest to celebrate the 100th anniversary of the founding of the Communist Party of China was successfully held at Li Dak Sum Building of Ningbo University . 18 contestants from 14 universities and colleges in Ningbo competed in the finals. Representatives from Ningbo Foreign Affairs Office , Ningbo Education Bureau, Ningbo Communist Youth League of China, and the Faculty of Foreign Languages of Ningbo University were also in attendance.
The finals consisted of two parts: the prepared speech and the impromptu speech. The finalists eloquently expressed their sincere love for the CPC by sharing key events and important figures from the CPC's centennial history and the stories of classic CPC movies and books. Their brilliant performance represents Ningbo students' high level of foreign language proficiency and comprehensive capabilities. After two rounds of intense competition, Huang Ruiqi from the University of Nottingham Ningbo China and Zhu Siting from the NingboTech University claimed first prize. The remaining contestants received second, third, and commendation prizes.
Chen Wen'an, Associate Professor at the English Department of Ningbo University and member of the judging panel, pointed out that this contest served as a high-level platform for students to demonstrate their language competency by telling stories about the CPC's hundred-year history. Prof. Chen urged all participants to maintain cultural self-confidence and leverage their language skills to tell stories about China well and spread China's culture to the international community.
Hu Jia, Deputy Party Secretary of Ningbo University's Faculty of Foreign Languages, introduced the Faculty's Foreign Language Publicity Team in her concluding remarks and called on all foreign language lovers in Ningbo's universities and colleges to join and play an active role in sharing Chinese culture and CPC history with international friends through storytelling. By participating, students could improve their language proficiency and move one step closer towards the goal of becoming a patriotic, professional, and multi-disciplinary talent with a global vision.
The Speech Contest was held by Ningbo Foreign Affairs Office, Ningbo Education Bureau, and Ningbo Communist Youth League of China. It was co-organized by Ningbo Foreign Affairs Translation and Interpretation Center, Ningbo University's Faculty of Foreign Languages, and the Ningbo Foreign Language Translation and Interpretation Association. Its mission is to inspire Ningbo's university and college students to deepen their understanding of the CPC's glorious centennial history and improve their foreign language competency for the spread Ningbo's and China's stories and Chinese culture.
Source: Ningbo Foreign Affairs Translation and Interpretation Center, Faculty of Foreign Languages of Ningbo University