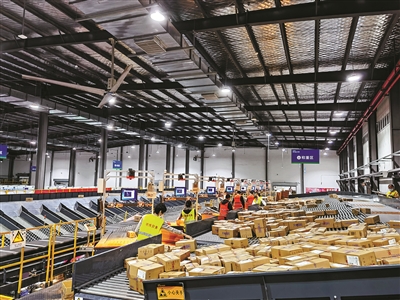 Packages in the bonded warehouse. [Photo by Xu Neng]
By Dong Na
Ningbo's digital trade reached a milestone: the first city with 100 billion yuan of cross-border e-commerce retail imports in China. In the afternoon of November 11, with the successful entry of a large number of cross-border imports brought by "Double 11" - the cumulative transaction value of Ningbo's cross-border retail imports exceeded RMB 100 billion.
Digital trade is becoming a driving force for the city's accelerated transformation and development. At the end of 2012, Ningbo was selected as one of the first national pilot cities for cross-border e-commerce. After eight years, the city has created a first-class business environment, especially for cross-border e-commerce, which has flourished remarkably as a result.
Strong Consumption
Upgrade
During this year's "Double 11", Ningbo's cross-border e-commerce retail imports were mainly beauty, health care, mother and child products, and food, accounting for nearly 70% of the total. They come from 85 countries and regions, among which goods originating from Japan, the United States, Australia, South Korea and New Zealand are the most popular, with a combined sales ratio of 75%.
At the same time, more and more goods from Central and Eastern European countries are entering the domestic market through cross-border e-commerce channels, such as rose oil cosmetics from Bulgaria, yogurt mask from Greece, and wine from Romania. From January to October this year, Ningbo bought 330 million yuan of cross-border e-commerce goods from Central and Eastern Europe, a yoy increase of 41.2%. It is worthy to point out that beauty and skin care products and toiletries increased significantly by 180%, valuing 62.31 million yuan.
Compared with the previously popular products, such as diapers, those hot-selling imported goods are now small in size and high in unit value, which better reflect the national pursuit of quality consumption and good life.
Relevant policies stipulate that every consumer can purchase up to 26,000-yuan worth of goods in a year through the cross-border import retail channel, and the value of goods purchased in a single transaction shall not exceed 5,000 yuan.
However, China's continued consumer upgrading trend has allowed cross-border e-commerce imports to soar and enabled Ningbo to achieve a cumulative import volume of more than 100 billion yuan in just eight years. In this sense, the rapid development of Ningbo's cross-border imports is also a reflection and witness of China's strong consumption upgrade.
Customs Clearance
Efficiency Improved
The core competitiveness of cross-border e-commerce imports comes from the efficiency of customs clearance, which dominates the shopping experience of consumers and is the core indicator for evaluating the quality of cross-border e-commerce services.
To enhance supervision of cross-border retail import goods, the Ningbo Customs has made innovation and optimization, focusing on "logistics chain" and "information data chain", realizing the standardization of business processes, information systems and supervision facilities. The four management mechanisms, enterprise classification, books management, risk monitoring and analysis, and joint prevention and control of departments, are equally improved.
The efforts of the Customs pay back. The efficiency of cross-border import customs clearance has been greatly improved.
Ningbo Fuli Logistics owns 28,000 square meters of warehouses, and more than 1,600 employees working in two shifts to make orders and shipments all day long. The warehouse operation line is designed based on the actual needs of cross-border import customs clearance business and express documents distribution, realizing the unification of orders, goods packing and customs clearance supervision. High-performance laser barcode reader can quickly and automatically scan the goods and transfer the data to the cross-border purchase service platform in real time. The waybill release status is queried simultaneously, and feedback sent to the customs system. Such a data exchange process takes only 0.1 seconds to enable customs supervision online at all times and ensure no delay in customs clearance.
In Ningbo, there are 29 bonded warehouses for cross-border e-commerce imports of the same kind. The total storage area is 1.1 million square meters. At the same time, a total of 50,000 front-line workers are taking shift in those bonded warehouses in the Ningbo Free Trade Zone.
Showing Ningbo's
Competitiveness
Through reform measures such as "system innovation, service facilitation, and business optimization", Ningbo's cross-border e-commerce, especially cross-border retail import business, has achieved explosive development and gradually formed the "Ningbo Model".
The goods issued from each bonded warehouse in Ningbo have a "QR code of traceability" on the outer package. This "QR code" contains information about the manufacturer, as well as the name, source and entry time of the goods, allowing whole traceability of the goods.
"This QR code is initially invented in Ningbo, and it conveys all the information of the goods, and a whole set of information collection management and service system is having its back, which reflects Ningbo's innovative cross-border import supervision and business environment." Ningbo Cross-Border E-Commerce Promotion Center staff said, at present, the mainstream cross-border e-commerce goods on the Ningbo port of entry e-commerce platforms all contain such "QR code".
As for now, Ningbo cross-border e-commerce retail imports have formed a good development pattern. Tmall Global, Kaola, and other well-known domestic cross-border importers have settled in Ningbo, and a total of 1.1 million square meters of bonded warehouses for cross-border e-commerce imports have been built.
Ningbo has become a leader in cross-border import and a benchmark of cross-border e-commerce with the largest scale of business, the largest cluster of enterprises, the most complete commodity categories, and the best infrastructure. From 2018 to 2020, the cross-border e-commerce online bonded import transaction volume and transaction amount in Ningbo ranked first in China for three consecutive years.