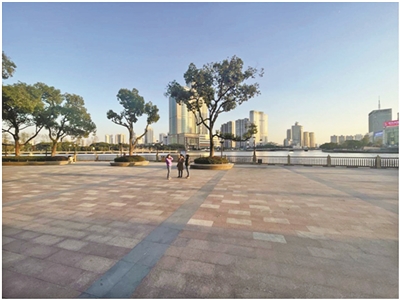 Moon Bay Square, Lao Wai Tan (Old Bund), Jiangbei District
Are you aware of goat's milk body lotion from Poland, rose hydrogen toner from Bulgaria, EVGE edible olive oil from Greece or LYRA chocolate from Slovakia? A cultural feast of such items is upcoming! On November 27 and 28, unique and high-quality consumer goods from Central and Eastern European Countries (CEEC) will be on sale in 5 neighborhoods of Ningbo, covering Haishu District, Jiangbei District, Yinzhou District, Beilun District, and Zhenhai District.
  波兰的山羊奶润肤乳、保加利亚的玫瑰水、希腊的EVGE特级初榨橄榄油、斯伐洛克LYRA巧克力……11月27日—28日,青春洋溢的大学生选手将带着这些中东欧好物,分别走进海曙区鼓楼街道中山社区世纪城小区、江北区外滩街道老外滩月亮湾、鄞州区潘火街道香园社区、北仑区大碶街道学苑社区、镇海区庄市街道开元广场,为大家带来一场集中东欧文化、美食、商品为一体的盛宴。
The sale also marks an audition for the entry of "CloudYong and CEEC" – a campaign to promote CEEC products in Chinese neighborhoods & live-streaming rooms. The campaign was hosted by Ningbo Municipal Bureau of Commerce, undertaken by CEEC Expo and Cooperation Promotion Center, executed by Ningbo Daily Group, and co-organized by Zhejiang Fashion Institute of Technology and Ningbo Import Commodity Center. It aims to provide a platform for the display of CEEC merchandises and culture, thus promoting business in CEEC as well as cultural exchanges between China and CEEC.
  中东欧商品走进社区是"云甬中东欧"走进社区&直播间系列活动的海选阶段。该活动由宁波市商务局主办,宁波市中东欧博览与合作促进中心承办,宁波日报报业集团都市报系执行承办,浙江纺织服装职业技术学院和宁波进口商品中心协办,旨在提供中东欧特色商品和人文展示平台,促进中东欧文化传播交流和中东欧商贸发展。
The online entry registration kicked off on October 13 through YongShang APP. Over 150 students from local schools like Zhejiang Fashion Institute of Technology and Ningbo City College of Vocational Technology have signed up for the contest. After screening and training, some outstanding participants are to present CEEC products and culture at the 5 venues mentioned above this weekend.
  "云甬中东欧"走进社区&直播间系列活动从10月13日起,在甬上客户端开通报名通道,来自浙江纺织服装职业技术学院、宁波城市职业技术学院等院校的150多名大学生报名参赛。经过初步筛选和培训,部分优秀选手将于本周末来到以上五大社区和广场,推广、介绍中东欧特色商品,宣传中东欧文化。
The voting started at 9 am on November 17 and will end at 4 pm on November 28. Each person can cast 20 votes per day. The voting (30%) and the sales volume (70%) indicates whether contestants will stand out in the preliminary. Altogether, 20 contenders will be selected, meaning 4 contenders from each venue will enter the final round.
  11月17日上午9点,投票通道开放,每人每天可以投20票,11月28日下午4点投票通道关闭。您的买买买和投票将直接决定选手的命运。根据本次活动规则,选手最终成绩由70%的销售业绩和30%的甬上人气相加而成。每个海选赛场推选出4位成绩最高的选手,共20位选手进入最终决赛。
Last but not least, the best prices are assured for customers: Royal Rose Water (200ml) from Biofresh is discounted 50% from the market price of 119 RMB to only 59 RMB. Goat's milk body lotion is 42 RMB (market price 53) and UHT whole milk (1Lx2) from Mlekovilta is 29 RMB (market price 33.9) ... Come and enjoy the bargains!
  当然,最重要的一点,活动期间,我们为您争取到了这些中东欧网红商品的最大折扣:比如,柏芙诗奢护玫瑰水200毫升,市场价119元,进社区价仅59元,直接打对折;山羊奶身体乳500毫升,市场价53元,进社区价42元;妙维哒全脂纯牛奶1Lx2瓶,市场价为33.9元,进社区价29元……总之,优惠多多,届时欢迎您的到来。
Venue &Time
Haishu District:
Century City Residential Area (Shijicheng), Zhongshan Community, Gulou (Drum Tower) Subdistrict
Time: November 27 (Sat.) 13:30-16:00
Jiangbei District:
Moon Bay Square (Yueliangwan), Lao Wai Tan, Waitan Subdistrict
Time: November 27 (Sat.) 13:30-16:00
Yinzhou District:
Xiangyuan Community, Panhuo Subdistrict
Time: November 27 (Sat.) 13:30-16:00
(Notice: Cancellation notice will be given in the event of heavy rain.)
Beilun District:
Xueyuan Community, Daqi Subdistrict
Time: November 28 (Sun.) 13:30-16:00
Zhenhai District:
Kaiyuan Square, Tongxinhu Community, Zhuangshi Subdistrict
Time: November 27 (Sat.) 13:30-16:00
By He Yan
Photo by Liu Bo
Translator: Pan Wenjie
Proofreaders: Puyang Rong, Huang Dawang, Jason Mowbray