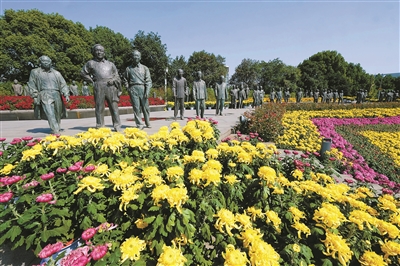 The statues of academicians in Ningbo. [Photo by Xu Neng]
By Gou Wen
Not long ago, both the Chinese Academy of Sciences and Chinese Academy of Engineering (the two academies) released their lists of newly accepted members in 2021.
This year, three Ningbo scientists are on the lists: Ma Yuqiang and Li Jun, who are Ningbo scholars, and Ying Hanjie, who was born and raised in Ningbo.
So far, the total number of Ningbo members of the two academies has reached 120.
The Brother Members
from the Same Family
Ma Yuqiang, born in 1964 in Xiaoyun Village, Yuyao, is a professor at the School of Physics, Nanjing University. Professor Ma holds a Ph.D. and supervises doctoral students' research projects.
His research interests are in the field of soft condensed matter physics, an interdisciplinary area of physics, chemistry, and life sciences. He has made fruitful achievements in several frontier topics.
Ma Yuqiang is an alumnus of Ningbo University, where faculty and students are excited at and inspired by his successful application to the membership. "I am so proud that Dr. Ma is selected as a member of Chinese Academy of Sciences," said Xu Yikai, a student at the School of Physical Science and Technology, Ningbo University. He also said that he would take Ma Yuqiang as his role model and work harder to promote scientific research to discover more about the physics world.
In 2017, Ma Yugang, Ma Yuqiang's younger brother, was accepted to the membership of the Chinese Academy of Sciences. Ma Yugang, born in 1968, is a nuclear physicist and now a researcher and professor at the Institute of Modern Physics, Fudan University.
As Ma Yuqiang is admitted to the Academy, Ningbo already has two groups of brother academicians.
Before that, Yang Fuyu and Yang Fujia have become the first brother academicians of Ningbo and their ancestral home is in Zhenhai.
Keep Exploring Mathematics
that Brings Shock
Li Jun, a native of Yinzhou, Ningbo, was born in Shanghai. In 1998, he became a professor of mathematics at Stanford University. He returned to China in 2019 to teach at Fudan University.
In Li Jun's office, there is a modern painting to which he was attracted by the color because it brings him a feel of shock, even though that was only done by a John Doe artist.
In the field of mathematics, he is also constantly exploring and finding the feel of shock, "Mathematics is like a building. You can feel the beauty only if you really get to know it," said Li.
After returning to China, he works in the Shanghai Center of Mathematical Sciences. As Chief Professor, he insists on teaching college freshmen. "Before I retire, I will teach the first year undergraduates every year," said Li.
For him, it is a pleasure to stay with students. Moreover, he explores the subjects of interest with his students because students can learn how to do in practice.
In teaching, Li Jun told students that research requires imagination. He encouraged the students to boldly guess the results. He stressed that they should be courageous to have some new ideas before making new things.
Encourage Young People
as the Pride of Village
Ying Hanjie is also on the list of the Chinese Academy of Engineering this year. He was born in Cixi in 1969 and grew up in Jintang Village, Cixi. Now, he works in the National Engineering Research Center for Biotechnology as Executive Deputy Director.
At present, Ying Hanjie's main research interests include bio-separation engineering and enzyme engineering. He developed several new drugs for diseases such as myocardial ischemia and diabetes.
In his hometown, Jintang Village, people are delighted for his achievement. "We are a farmer family. I often tell them that studying is the only way out," said Ying's father. When Ying was a child, he was very diligent to help others on the farm works. At the same time, his parents supported him to keep learning although the family was not rich.
His teacher at high school was still impressed with him. In one of the semester summaries, he wrote, "(Ying) studied hard, having high enthusiasm, the ability to research, and strong critical thinking."
Since the 1980s, this village has witnessed a number of local young students to become professors in famous universities. Now, their achievements have become timeless inspiration to the students in the village.