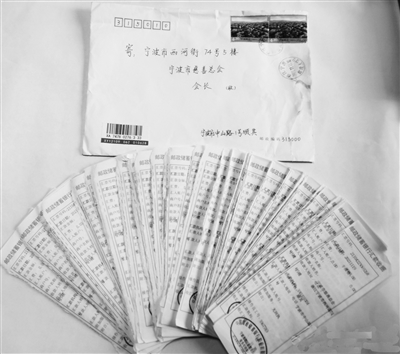 Money orders from the anonymous donor received by the Ningbo Charity Federation.[Photo/Yang Jingya, Wang Siqin](记者杨静雅王思勤文/摄)
  NINGBO, Nov 24. (Ningbo Evening News)— On November 24, Ningbo Charity Federation received money orders worth 1.05 million RMB ($164,304) from an anonymous donor. Going by the Chinese four-character idiom "shun qi zi ran" (meaning "let nature take its course"), the mysterious donor has been giving money to charity while concealing their real identity for 23 consecutive years. Each winter, the federation has received money orders from this anonymous donor. And this year, the amount of the donation sets a record high. So far, "shun qi zi ran" has donated a total of 13.63 million RMB ($2,131,732) to the federation.
  105万元!"顺其自然"又来捐款了! 11月24日上午,宁波市慈善总会收到"顺其自然"的汇款单。23年来,"顺其自然"就像"隐形人"一样用模糊的身影书写着大爱传奇,每年冬季都如约向市慈善总会捐款,这次捐款数额最高。至昨日,"顺其自然"已向市慈善总会捐款1363万元。
  Last week, 107 slips of money orders — no more than 10,000 yuan each — were delivered through the Postal Savings Bank of China (Gulou (Drum Tower) branch, PSBC) and the Business Center of Postal Administration Building; both branch offices sit in Haishu District. These orders, according to their signatures, were sent by "Shun qi" (first half of "shun qi zi ran") from a coined site, "No.1, Zhongshan Road".
  这次"顺其自然"的汇款从中国邮政储蓄银行海曙区鼓楼支行和海曙区邮政大厦营业所分别汇出,汇款单署名"顺其",共107张,每张金额都在1万元以下,汇款地址是宁波并不存在的"中山路1号"。
  The remittance pattern — money orders sent from a non-existent site by a mysterious donor — has been established ever since the first donation in 1999. Chen Haiying, associate director of the federation, still has a vivid memory of the first time. On 6th December 1999, the mysterious donor sent a money order worth 50,000 RMB to the federation, with an attached slip reading "by shun qi zi ran, from No.1, Jiangdong Road". Upon receipt, Chen tried to reach out to the donor through the address. But she soon figured out that the site did not exist. Since then, the federation has regularly received funds from the anonymous donor in November or December. The signature usually reads "shun qi zi ran" or its familiar forms, including "shun shun" or "shun qi". And the amount of donation varies from 50,000 to 1,050,000 RMB.
  汇款地址不存在,"顺其自然"第一次向市慈善总会捐款时就是这样的。市慈善总会副会长陈海英清楚地记得当时的情形:1999年12月6日上午,市慈善总会收到一封装着5万元汇款凭证的信,信封上署名为"顺其自然",地址为"江东路1号"。她立即去找这个地方,发现这个地方根本不存在。之后每年11月或12月,"顺其自然"的捐款都会如约而至,汇款地址都不存在,汇款人有时是"顺其自然",有时是"顺顺""顺其"等,汇款金额从5万元到105万元不等。
  "As a citizen of the Chinese society, I would like to play my part in extending a little love." "Neither practice evil deeds nor hype benevolent acts. Just let it be, and nature will take its course." It was only during the first three years that the donor used to write to the federation. With brief words, this quoted letter demonstrates their willingness to remain unrecognized. The federation has respected these wishes and has given up trying to identify the person or persons. In 2008, to stay anonymous, the donor started to split the donation into batches, each worth less than 10,000 RMB. Otherwise, the money order must be signed with the donor's real name according to bank rules.
  "我作为群体中的一员,特献上一份微薄的心意。""坏事不做,好事不说,顺其自然。"……在给市慈善总会捐款的23年里,"顺其自然"只在前三年写来过简短的信。市慈善总会领导读懂了其不愿抛头露面的心思,不再寻找他(她)。而他(她)为了不被发现,从2008年邮政系统要求汇款超过1万元需实名后,每张汇款单的金额都不超过1万元。
  He Shijia, a female staff member at PSBC, has provided service to the mysterious donor several times. She revealed that most of the time, a lady would come to handle the remittance, while some other times a man would. Based on the rough sketch of Ms. He, our mysterious donor could be an affluent lady or gentleman with a warm heart and a low profile.
  据这次给"顺其自然"办理业务的中国邮政储蓄银行海曙区邮政大厦营业所营业员何仕佳介绍,她多次为"顺其自然"办理业务,多数时候是一位女士来办的,也有好几次是一位先生来办的。她给"顺其自然"画了一幅"像"∶经济宽裕、富有爱心、不愿扬名、男女不详。
  According to Chen Yunjin, director of the federation, all the money donated has been used for educational purposes, including funding over 2,000 students in need. Thanks to the extended impact of this anonymous donation, over 5,000 people in Ningbo for the past 23 years have followed the example of "shun qi zi ran" and donated a total of more than 50 million RMB to the federation.
  据市慈善总会会长陈云金介绍,市慈善总会将"顺其自然"的捐款都用在了助学上,共有2000余名贫困学子获得了资助。同时,"顺其自然"给宁波带来了隐名捐赠的风潮,23年来共有5000多人次在宁波各慈善总会隐名捐款,捐款总额5000余万元。
  The legendary donor "shun qi zi ran" highlights the quality of helping others and an inborn preference for common prosperity among people in Zhejiang province. On behalf of the Ningbo Charity Federation, Director Chen promises that such donations will be ethically utilized and encourages more people to care for philanthropy and support Zhejiang Common Prosperity Demonstration Zone.
  "顺其自然"身上展现了浙江人乐善好施的优秀品质和崇尚共同富裕的文化基因。陈云金说,市慈善总会将更加科学地使用"顺其自然"的捐款,也将通过"顺其自然"这张爱心名片吸引更多的人投身慈善事业,为浙江共同富裕示范区建设添砖加瓦。
  Dear audience, have you ever done an act of unconditional goodwill, like "shun qi zi ran"?
  你,曾经也为爱慷慨解囊么?
  By Yang Jingya, Wang Siqin
  Translator: Pan Wenjie
  Proofreaders: Huang Dawang, Puyang Rong, Jason Mowbray