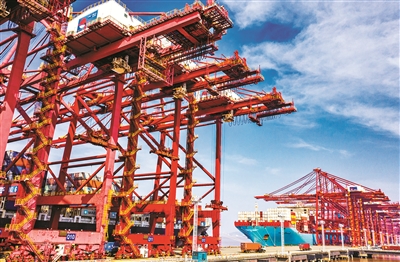 Import and export via Ningbo Zhoushan Port. [Photo by Tang Yan]
By Dong Na
Recently, China and ASEAN formally announced the establishment of a comprehensive strategic partnership, which significantly enhances existing China-ASEAN relations and will inject new impetus into regional cooperation. For Ningbo, it represents a good opportunity to boost international trade.
Huge Potential for
Regional Trade
When RCEP was signed last November, Ningbo decided to step up to the plate, supporting China's role in the agreement by strengthening trade ties with the ten ASEAN countries. This measure would also advance the high-quality growth of the city's open economy.
In the first ten months of this year, Ningbo's imports and exports to ASEAN reached 102.81 billion yuan, a year-on-year increase of 16.9%. Notably, the growth rates of imports and exports were roughly equal, suggesting two-way trade is becoming more balanced.
On a national level, China and ASEAN have long been each other's largest, most dynamic, and most strategically-significant trade partners. On a city level, Ningbo's trade volume with ASEAN ranks after the EU and the US. From January to October this year, Ningbo's trade volumes with the EU, the US and ASEAN were 175.59 billion yuan, 171.61 billion yuan, and 102.81 billion yuan, marking an increase of 25%, 22%, and 16.9% respectively. Together, the three regions account for 45.9% of Ningbo's total foreign trade value in the first ten months of 2021.
Ningbo's trade surplus with its three major trading partners is growing, indicating that Ningbo's interdependence with the world economy continues to deepen. The fact that ASEAN ranks third among Ningbo's trade partners suggests that trade between the two sides still has great potential for growth.
There is a high level of complementarity between Ningbo's and ASEAN's industries. The strengths of Ningbo enterprises lie in its knitwear integrated supply chain, petrochemicals, and e-commerce, which, combined with ASEAN's strong processing trade, will contribute to a more efficient regional division of labor.
Expand New Areas
of Cooperation
The establishment of a comprehensive strategic partnership between China and ASEAN means that China will continue to increase its support for SMEs' sustainable development.
The cumulative transaction value of cross-border e-commerce retail imports in Ningbo recently exceeded 100 billion yuan. Kong Zehao, deputy general manager of SHIMAOTONG, believes that Ningbo should continue to build up its competitiveness in cross-border e-commerce and join hands with ASEAN to foster an even bigger market for all. Meanwhile, Ningbo enterprises should drive growth with innovation, consolidate their footing in existing markets, and actively explore foreign trade partnerships in new areas.
Chen Jianxu, president of BOSSGOO, holds the same view. Last year, when RCEP was signed, he noticed that e-commerce was mentioned in the opening of the agreement.
"With the ongoing epidemic, technology has become a key part of lifestyles, which means corporates must enhance their digital competitiveness to stay ahead of the game. Ningbo's international trade enterprises should undergo digital transformations and employ digital marketing strategies to reach new markets and new customers. ASEAN is a very good choice." Chen said that BOSSGOO's multilingual online platform can help overseas clients search for Chinese manufacturers and suppliers with ease. In the future, the company plans to develop more cross-border e-commerce platforms targeting ASEAN.
Integration of Industrial
and Supply Chains
On a small chain of islands in the Pacific, there is a billion-dollar overseas project operated by a Ningbo company.
In 2018, Ningbo LYGEND Company joined hands with Indonesia's HARITA Group to invest in nickel and cobalt wet smelting, RKEF ferronickel smelting, and the construction of port facilities and power plants on Indonesia's Obi Islands. The first phase of the project, with an investment of $2 billion, was identified as a "major construction project of the Belt and Road Initiative" by Zhejiang Province and recognized as a national strategic investment project by Indonesia.
"Currently our company has 4,941 employees working in Indonesia. 4,018 of them are local Indonesian workers," said Cai Jianyong, chairman of Ningbo LYGEND Company.
Over the past five years, the Ningbo-based company has handled more than a quarter of China's total nickel ore trade and ore shipping volume, and has long ranked first on the domestic nickel ore import list. Its overseas business is mainly located in Indonesia, the Philippines, Malaysia, and other ASEAN countries. LYGEND's financial statement is a testament to the deeply intertwined industrial chains and supply chains between China and ASEAN.
As the relationship between China and ASEAN reaches a new level, Ningbo is looking forward to seeking more partners with whom to share development opportunities and jointly develop supply chains and production chains in more industries.